Giving abandoned, unwanted, & special needs cats a second chance at life.
We are the voice for the voiceless.
A Misfit Meep represents a life, a soul inside of a furry body who has been ignored, isolated, and often times abused. These are kittens and cats who were given up on and who deserve a second chance at life. 
Support Love for Misfit Meeps and share the love by sending a sweet note and a kitten card to someone you love. ♥️
Donate what you can and send a happy PURR-thday card, a thank you card, or a positively purrrfect note letting your loved one know just how special they are to you. All while saving lives! 
Pets Available for Adoption
See who we have ready for adoption! 
Meet Our Founder: Alanna Dalba
Alanna here 👋 Ever since I can remember I have always had an intense passion for saving animals, specifically cats. They are often seen as a nuisance and treated cruelly. As long as I breathe I will fight to save the innocent souls that need me.
Misfit Meeps was founded after I lost my sweet babygirl, Marceline Meep who was born with a neurological condition leaving her paralyzed but with feeling everywhere. She was given a life expectancy of 6 months full of tremendous suffering but lived three and a half beautiful, loving, comfortable and above all HAPPY years.
Marci's story has inspired me to become a voice for the voiceless. In each life I encounter I see the future that's possible. The cats we rescue go on to change the lives of their human caretakers. These animals represent new beginnings, second chances, and an immeasurable sense of the beautiful fragility of life. 
You can help make a difference
Misfit Meeps Who Found Their Forever Homes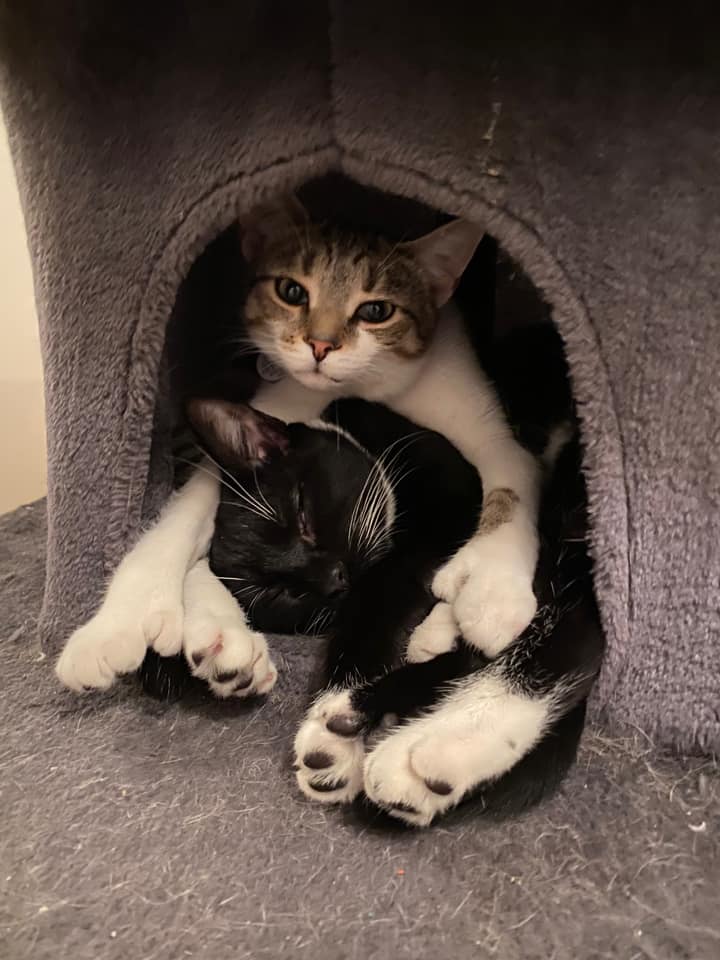 Courtney Garland
Alie (top) & Lani (formerly Lily-snuggled in her sister's mittens); the first 2 kittens adopted into our family from Alanna. Yep the FIRST two because 2 more came after these girls! Everyone of the cats and kittens that comes into Alanna's care is treated like one of her own & it shows. My kids are loving, sweet and a perfect fit in our family! (Pics of the other 2 are coming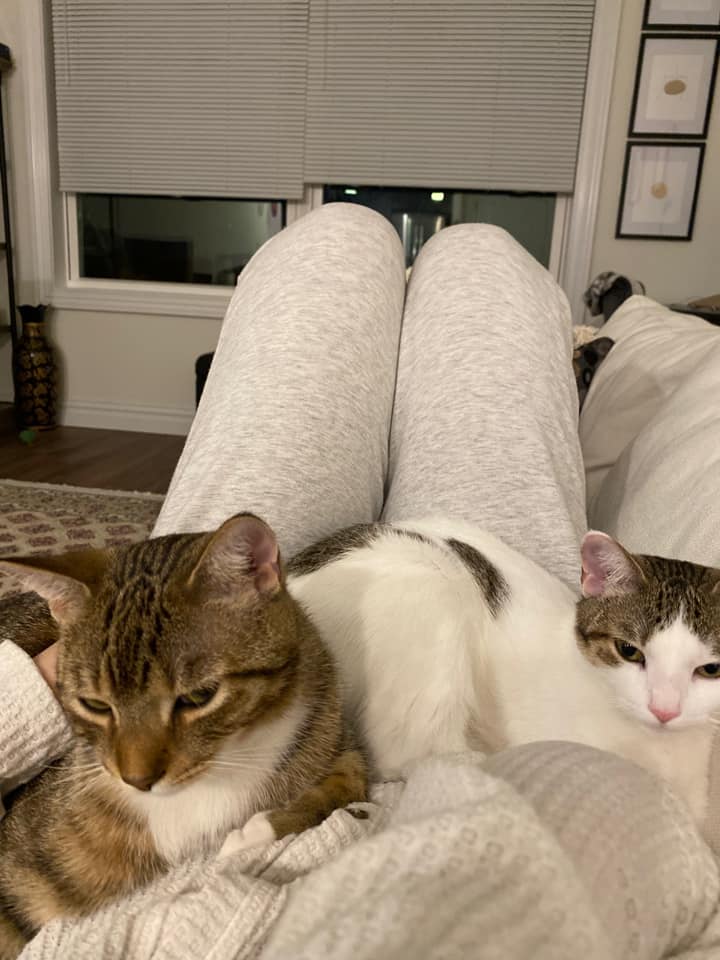 Alli Risewick
my babies Cairo & Cleo (formally "Charlie" and "Sassy") These two are angels in my life and make every day so memorable. Everyone who has met them has said how special they are, and I couldn't imagine life now without them. They have such vibrant personalities too!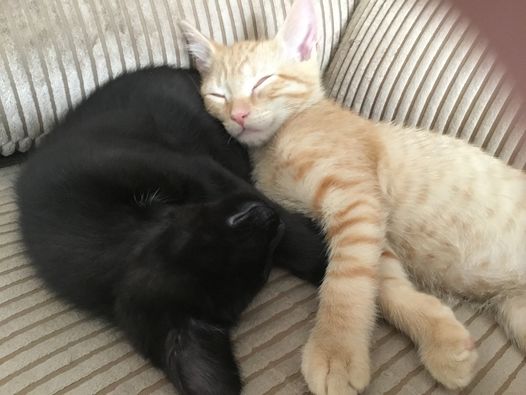 Kathleen Flannery
My daughter adopted two brothers from Alanna Dalba in July-Archie & Willie. It was the best decision, they're the sweetest boys and have brought so much joy into our home. Alanna is amazing with all she does for these fur babies and for how much she truly loves them. We would definitely adopt from her again, if and when the time is right.
Erika Sarkis
Luna & zip… aka little puff and grape. Thank you for the best kitties ever! Their amazing start to life thanks to Alanna has made them both the sweetest soles in the world. How many cats get the chance to be loved unconditionally from day 1 with a full belly and everything they need?! Alanna starts that path for so many cats. She's simply amazing! Thank you so much! I love my kitties 🐱 🐱
Pam Siedlecki Setek
This is Marcy! We adopted her from Alanna a few months ago. She is AMAZING, even when she's climbing our 🎄😁, and fits in perfectly with her older brother and sister, Rocky and Adrian, who are also adopted😸😸😸 By rescuing these beautiful animals, Alanna is saving their lives, and by adopting, you are giving them a life! It's a win win! If you're ready to change a life, please contact Alanna at Love for Misfit Meeps!
Debra Henry
Love my Chase(aka Handsome Hank) loved him as soon as I saw his picture on the website. After losing my precious Finn my daughter spotted Chase and knew he would help me through my pain. He is amazing and each day he loves me more❤️❤️❤️thank you so much for allowing me to adopt this precious boyBy rescuing these beautiful animals, Alanna is saving their lives, and by adopting, you are giving them a life! It's a win win! If you're ready to change a life, please contact Alanna at Love for Misfit Meeps!
Sara Breck
It was love at first sight for me and this little misfit, Wednesday. Love For Misfit Meeps is a one of a kind rescue. Alanna has a heart of gold and takes in kitties from every kind of situation to give them a chance at love and happiness. She takes the time to know and understand each and every cat she takes in so she can find them just the right home. I am so grateful to her for seeing Wednesday's potential and saving her from the city shelter, who deemed her unadoptable. Adopting from Alanna has been the best experience. She is so supportive and continues to care about every cat she adopta out, no matter how much time has passed. Thank you Alanna ❤️😻❤️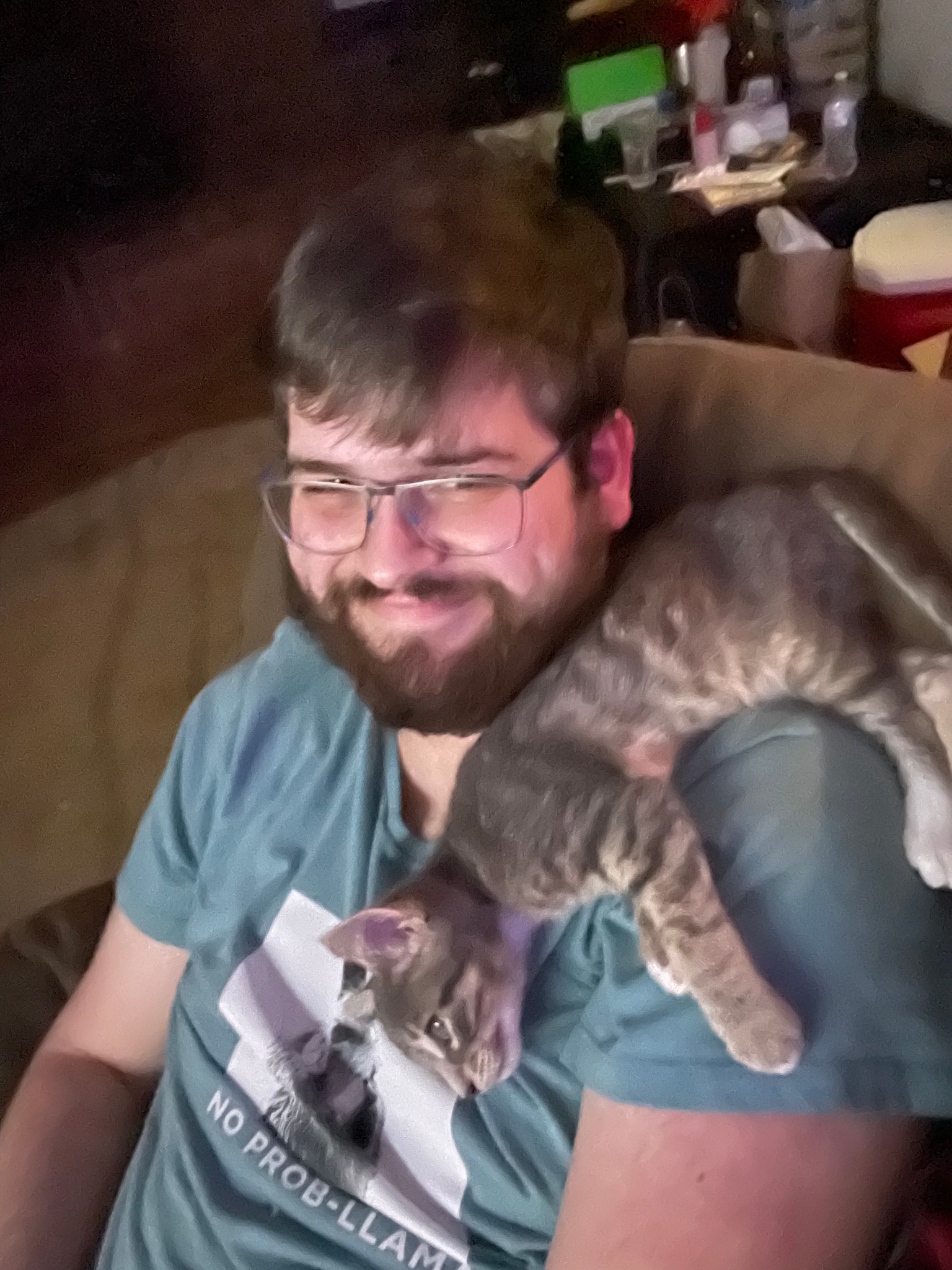 Dillyn Scott
What can I say about this whole process. I had been sending my wife photos of misfits meeps for about a month when my wife decided to pull the trigger. The process was clean and easy and the foster even let us borrow a carrier to bring our sweet boy cooper (formally Finn) home. We weren't planning on getting him that day but his sister had just gotten adopted and we couldn't leave him alone. You can really feel the passion that everyone Alanna works with brings to the table. Copper I now a beacon of light in this crazy world we live in and we can't thank you enough for the opportunity to raise and love him.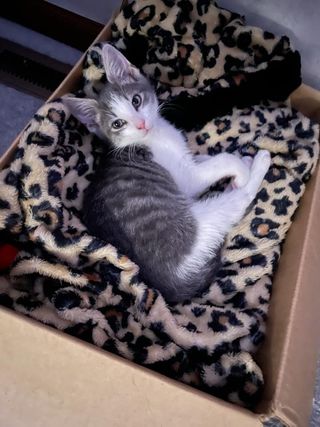 Gayle Winzenried-Specht
We love our little boy and had a great experience adopting through Alanna. Her fosters are very well taken care of prior to adoption. Alanna and her team work tirelessly to save lives and find forever homes.
Chantel Baker-Harrington
Thank you for giving us the opportunity to become Jaspers family. You were there the day he was born and took care of his momma and siblings.
Chloe Rapone
I did not get to meet Alanna in person but she worked with me continuously to help find my mom a kitty. Alanna answers quickly and clearly has the biggest heart around. Her efforts are so genuine. My mom now has the most perfect snuggly kitten to brighten her day and it feels like Motley has been in our family since day one.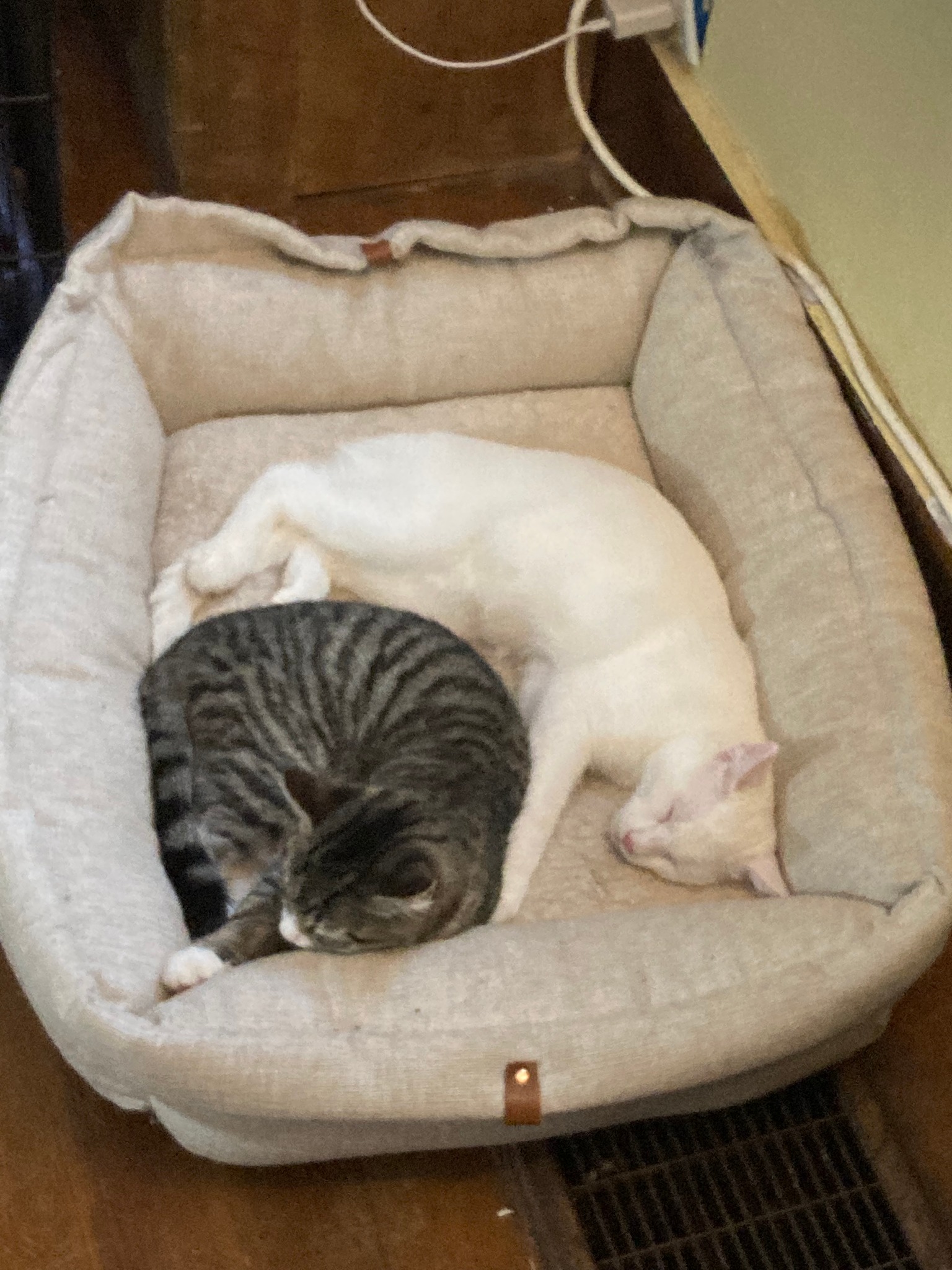 Laura Cross Dumuhosky
We love our sibling kitties!! Smaug (white) and Billie Bean are a part of our family now, and working with this rescue was amazing! If you're looking to adopt a furry feline friend, I would definitely recommend them!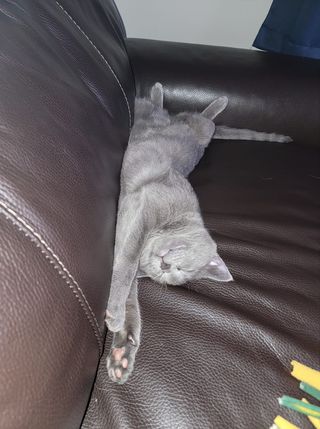 Stephanie McBride
This is Elsa and she's been a great addition to our family! Full of energy, sass, and love! We're so appreciative of alanna and her rescue!!
Geri Jinks
My great granddaughter, River, loves her 2 new babies from Alanna's rescue. Pictured with Duncan who absolutely loves her.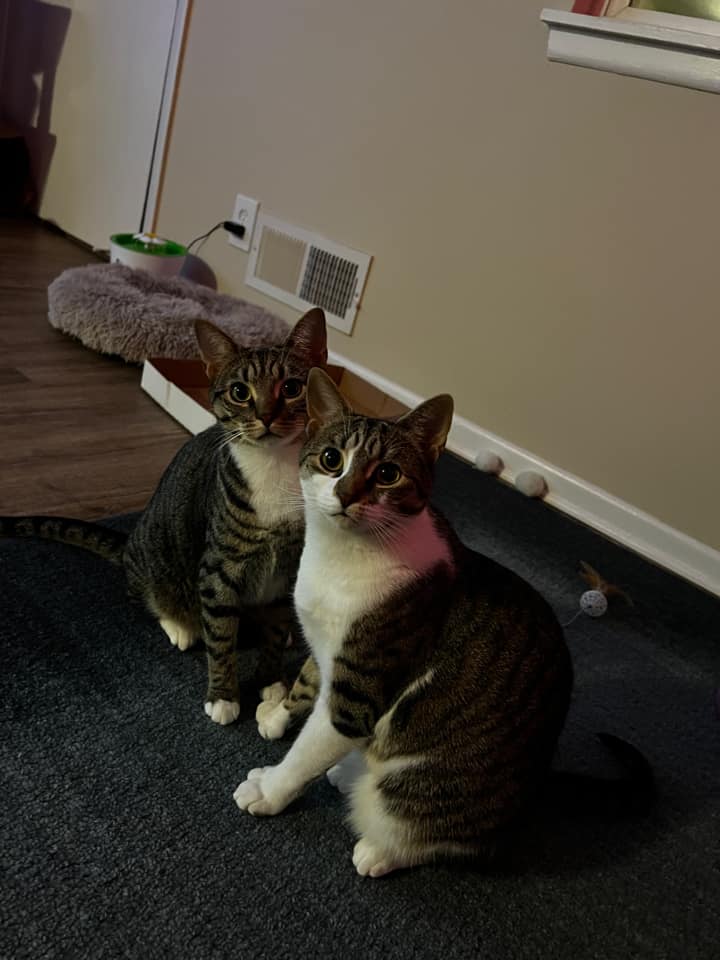 Laura Myers
Alanna is one of the sweetest and caring people I've ever met in my life. She introduced us to our bonded sisters who chase each other around the house and cuddle up with us at night. We can't imagine life without them. Two cats are better than one! Thank you, Alanna for giving us part of our family. 🥰